"Internal Diary" 1991

"It is not difficult art.to paint," as Picasso said, "three hundred canvasses, because any budding artist can do that. Art means to still have something to say after having painted five thousand canvasses. Because the truth of the matter is that the unexhausted source of inspiration is the most important."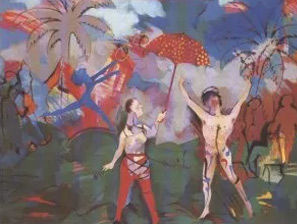 Southern skies. Exotic palm trees. The colour of the Italian street. This unobtrusive back – ground breaks out in colourful, abstract spots and human figures modelled with colour. The dominance of green and reds. All this senses. Intrigues and provokes. It becomes pure bliss. Rapture that also conceals in itself the tragedy of our existence; despair and solitude, sadness and nostalgia. Somewhere next to us our joys, tragedies, ordinary matters play themselves out.... Small and big pleasantries, problems and drama constantly create anew the very same mosaic.
Each day brings more disillusionment and doubts, while every experience brings new impressions and is a stimulus for Anna Ziaja to register in her "Internal diary." Each of her heroes is someone she had met sometime in life only for a second. Each canvass is like a still; the capturing of a moment that would otherwise be lost, a certain degree of chance. Simple subjects are camouflage for complicated once for complex psychological unions. Her secreative figuries are usually without faces, they are like our dreams, but at the same time each of us could be one of those human moulds. They are more human beings than women or men, between whom any understanding is impossible. You can almost feel the tension and lack of closeness emanating from lovers petrified in dramatic poses. Ziaja's Diary is full of violet dogs, orange horses, symbols of true friendship... Ziaja likes people. She is interested in them. She speculates, makes various assumptions, creates situations, which in real life would probably evoke their emotions, responses hitherto unknown? Maybe even reveal their real ego?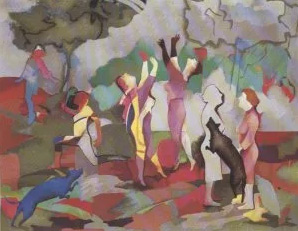 The artist tries to avert realistic details, and if they do surface it is only on the principle of opinion. She wishes to remain totally free, if only on canvass... She creates her own unique and dynamic world. In terms of artistic programme she does not reject technique, but sometimes prefers to leave a sketch because "a painting comes into existence when a thousand elements, often contradictory, form somthing called magic and begin to play to their own specific rhythm..."
Everyday she tries to collect new impressions, which next create a certain projection. It seems that her fascination with man, his inter – relations remains open. Everytime she paints, it is as if she were beginning anew...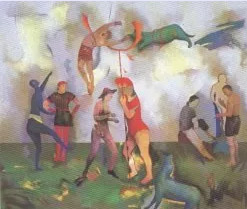 IN 1979 ANNA ZIAJA GRADUATED WITH HONOUR DIPLOMA FROM WARSAW'S ACADEMY OF FINE ARTS. THE YEARS OF POLITICAL BOYCOTT PUT OFF HER DEBUT SO THAT IT WAS ONLY IN 1985 THAT SHE TOOK PART IN AN EXHIBITION OF PAINTINGS AND GRAPHICS OF WARSAW'S ARTISTS. EARLIER SHE DISPLAYED HER WORKS IN ITALY. BUT SHE WAS REALLY DISCOVERED AT THE " ARSENAŁ 88" ART EXHIBITION. SHE HAS BECOME ONE OF THE MOST POPULAR CONTEMPORARY PAINTERS. HER CANVASSES ARE ALSO ADMIRED BY FOREIGNERS, WHO ENJOY BUYING HER WORKS.
KAMA ZBORALSKA, CASINO MAGAZINE 1991